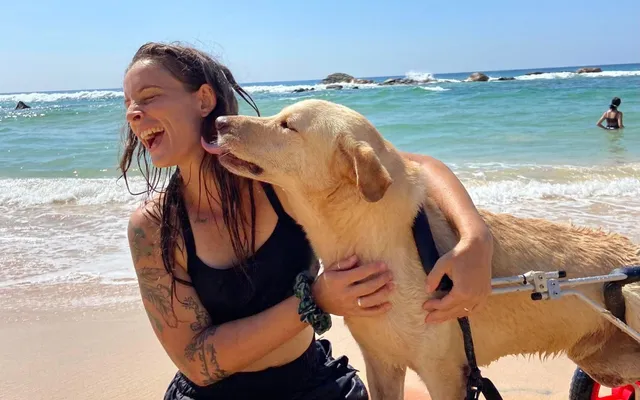 Volunteer with street dogs on Sri Lanka
Work as a volunteer with street dogs on Sri Lanka. You will be volunteering at a shelter that takes in and treats street dogs.
Les mer
Dog Care
Covid status
Åpent!
Per 07.12.2022 ikke lenger krav om testing eller fremleggelse av vaksinasjonskort ved ankomst på Sri Lanka. Dette gjelder også for uvaksinerte reisende.
There are an estimated 3 million stray dogs in Sri Lanka many of whom suffer immensely through malnutrition, disease, and horrific injuries. A significant portion of the local public's knowledge/awareness of dogs (and animals in general) is unfortunately still quite limited and often regressive leading to ill-treatment and abuse. Most dogs live on the streets, and many are in an appalling state. Unsprayed females produce several litters of puppies every year, many of which are simply abandoned in front of temples or at the gates of shelters. These puppies are usually too small to have even the slightest chance of survival unless provided with care. Many of them die of hunger or due to parasites or fall victim to animal abusers.
Unfortunately, the Sri Lankan government turns a blind eye to this problem and does nothing to support the well-being of stray dogs. Hence, it is of utmost importance to provide these vulnerable dogs with a level of care that gives them the best chance to survive and thrive. With a distinct lack of safe havens and veterinary care available to strays in Sri Lanka, the work and facilities provided in this project are a lifeline to many otherwise doomed dogs.
The goal of this project is to provide a dignified, joyful, and protected way of life to these beautiful creatures and give them new hope where there was none before. Volunteers spend most of their project time at the dog care facility performing hands-on work with dogs that need the attention and care. They also assist in various activities around the facilities, including local beaches and streets, to assist with the care work and day-to-day operations as needed.
The type of tasks volunteers can expect to undertake include:
High level of engagement with dogs and dog activities (playing, cuddling, etc.)
Assisting during mealtime, feedings
Working with injured and disabled dogs and using a range of rehabilitation techniques such as hydrotherapy, wheelchair therapy and more (involves weekly trips to the local beach for these activities)
Cleaning the general areas to maintain hygiene
Helping with socializing certain dogs
Puppy care
Basic wound cleaning if necessary
Occasionally assisting with building various tools for the betterment of the dogs' experience (e.g., building small sheds, utility tools, toys, etc.)
Other day-to-day tasks as appropriate
Please note that the above set of tasks represent the range of tasks past volunteers have undertaken over time.
The actual set of tasks performed at any given time are dependent onthe needs on the ground in those periods and are determined by the management of the dogsanctuary. Being a real-world project, the tasks can also evolve from time to time as per the needs and goals of the project. The main shift happens in the morning (usually from 8 AM to 12 PM) but the times can be altered slightly depending on time of year and the needs of the project. There is also the possibility of conducting afternoon shifts from time to time as per the needs of the project.
Jeg melder meg på!
Jeg har noen spørsmål
Arbeidet
The main motivation behind this project is to provide a high level of care to the most neglected and vulnerable street dogs of southern Sri Lanka, so they have the best possible chance to survive and thrive despite the difficult odds they face. We have partnered with Animal SOS Sri Lanka (https://www.animalsos-sl.com), a highly regarded charity registered in both UK and Sri Lanka, for this project. They care for approximately 2,000 dogs in their facility which is one of the largest animal care facilities in all of Sri Lanka. The dogs are divided in two adjacent units which house approximately 1,000 dogs each.
The dogs are cared for in a beautiful, free-roaming sanctuary which provides asafe-haven for sick, disabled, and vulnerable strays. There is also an on-site veterinary clinicwith resident local vets providing life-saving treatment and care. They operate neutering/rabies vaccination programs in the local area, adoption schemes and animal welfare education.
The goals of the organization and this project are:
To provide quality care and rehabilitation for all dogs that need it, including sick, injured and disabled dogs
To rescue dogs in dire need, particularly strays, neglected and abandoned dogs
To stabilise the stray dog population through spray/neutering programs
To reduce/eradicate the spread of rabies, creating a healthier environment for humans and animals
To provide education & adoption programmes, which benefit both dogs and humans
The project site is in Ahangama which is about 20-30 minutes from the Volunteer House in Unawatuna. Transportation to and from the project is included every day. At the project, all participants will get an introduction/orientation session on their first day. At the project there is an experienced team of approximately 60 people consisting of veterinarians, caretakers, operations personnel, and other support staff.
Age: Our general rule is that volunteers need to be at least 18 years of age to participate at this project, however we can accept 16 and 17 year old volunteers if they have parental/guardian consent.
Recommended Attire:
Clothing should be casual and comfortable – no restrictions as such except that it should not be too revealing since locals are generally more on the conservative side.
Footwear can be comfortable sneakers or sandals.
Sunscreen recommended since a lot of the work is done outside.
Light rain jacket recommended during the wet season (June-November).
Vaccine Recommendation: We strongly recommend participants get the rabies vaccine before joining this project to cover for any unexpected bites or injuries that may occur in their day-to-day activities. These rarely ever happens but it's better to be safe thansorry.
Send denne siden til meg som PDF
Boforhold
Mens du er på prosjektet bor du i et fantastisk frivillighetshus som ligger frodig til på en liten høyde med utsikt over Unawatuna Beach og det indiske havet. Huset er bygget i kolonialsk stil, har 4 etasjer og totalt 11 rom med hver sin egen bad og balkong. Det er kort vei til det meste, med kjente turistattraksjoner som Galle Dutch Fort, Galle Navy, Wijaya Beach og tidligere nevnt Unawatuna innen 5km avstand.
Huset har blant annet en utendørs badebasseng, hage med lounge- og andre sittemuligheter hvor det holdes ukentlige yogatimer, grønnsakshage, 3 fellesrom og et stort spiseområdet. Varmtvann og høyhastighets WiFi er inkludert.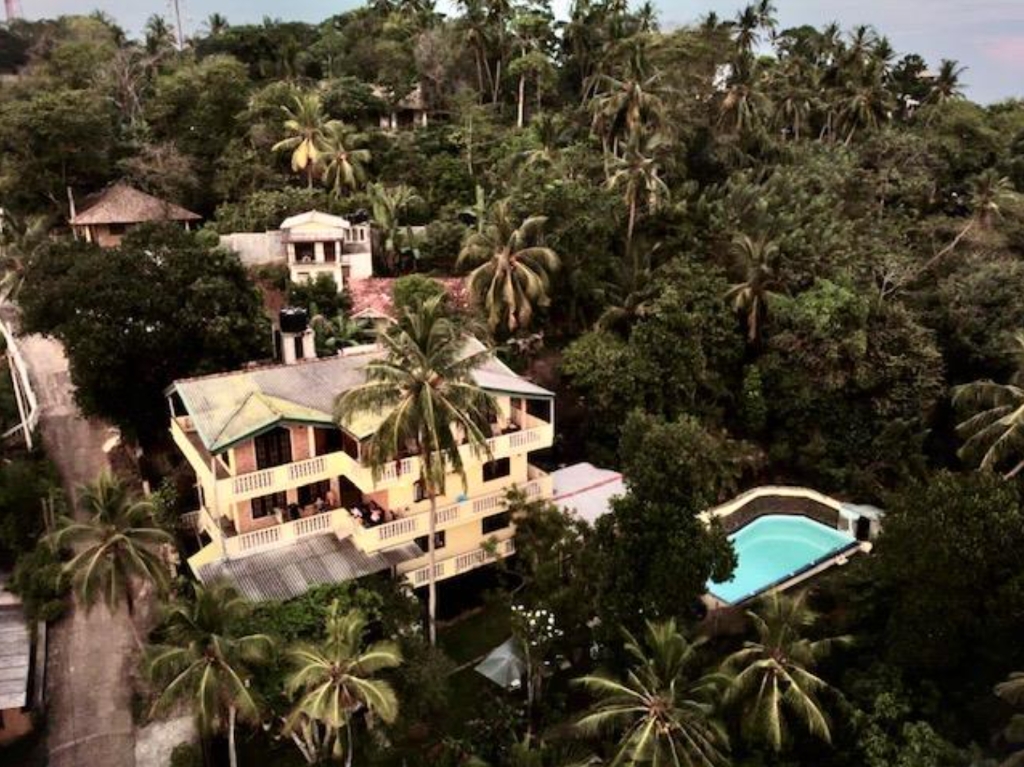 Alle de 11 rom har bad/wc som deles med den du bor på rommet med. Man sover i køyesenger. Det finnes skap i rommene slik at frivillige kan oppbevare sine ting her på eget ansvar. Man får madrass, laken, sengetøy og pute. Det finnes vifter på alle rom, og de er godt ventilert med vinduer i tillegg. Mot et lite tillegg så kan man få rom med aircondition om det er ledig. Dette må man bestille på forhånd. Selve huset har plass til litt over 40 personer av gangen. Ta kontakt om du vil ha ditt eget rom, så kan vi sjekke muligheten i perioden du tenker å reise.
Det er rask WiFi i huset og hver deltaker får 10GB per måned inkludert. Om du vil ha med en egen myggnett er det lurt å ta med en som passer på køyesenger.
Kontoret til vår partner på Sri Lanka ligger i første etasje, og dette er også basen til det lokale teamet som består av en programleder, driftsleder, ulike prosjektkoordinatorer og en kokk som tilbereder de 3 måltider frivillige blir servert daglig. Måltider er i huset og blir tilberedt med ferske, lokale råvarer stort sett basert på sesongen. Frokost er vanligvis pannekaker eller egg eller til tider tradisjonell ris med melk og frukt. Lunsj og middag er tradisjonell lankisk karri med ris eller brød. Måltider serveres med salat og frukt for å sikre at du får et sunt måltid.
Galle er en av Sri Lankas mest fortryllende destinasjoner, hjemmet til den berømte nederlandske fortet fra det 17. århundre som huser mange vakre stykker kolonial arkitektur bak sine vegger, i tillegg til en samling quirky butikker og restauranter. Galle er et stort område som ikke bare omfatter det berømte fortet, men også strender i verdensklasse, både for svømming og surfing - feks Mirissa, Wijaya, Ahangama og Weligama.
Visum
Fra 1. januar, 2012 innførte lankesiske myndigheter et elektronisk system der man søker om ETA – Electronic Travel Authorization før man reiser til Sri Lanka: www.eta.gov.lk

Visumet er gyldig i enten 30 eller 180 dager og koster 50 USD, som ikke er refunderbart. Du kan også velge å søke visum ved ankomst, men denne er litt dyrere og 180 dagers versjon er da ikke mulig, så de fleste velger å søke online i forkant.
Du vil få mer informasjon om visum til Sri Lanka etter at du er meldt på og plassen er bekreftet.
Jeg melder meg på!
Jeg har noen spørsmål
Reise
Other Information: Project Capacity: Maximum of 25 participants at one time Availability: All year round (no blackout dates) Arrival & Departure Days: Saturdays Project Workdays: Monday to Friday (weekends are free) Age Requirement: General rule is that volunteers need to be at least 18 years of age to participate in the project. However, we accept volunteers aged 16 and 17 years with parental/guardian consent. Nearest Airport: Colombo Bandaranaike International Airport Location of Project: Ahangama, Sri Lanka (20-30 minutes from our Volunteer House) Support Provided: On arrival, a detailed orientation & training program is provided, including health and safety training, culture training and an area orientation tour. All operational activities are managed, guided and supported by our experienced local team. Local transportation to and from the project is included every day. On the project, all participants get an introduction/orientation session on their first day. The project site has an experienced team of approximately 60 people consisting of veterinarians, caretakers, operations personnel, and other support staff. There are 3 Managers who will be overseeing the volunteers on a daily basis and also assigning them various tasks each week.
Priser
Merk at prisen kan endre seg og at den fastsettes ifht avreisedatoen og ikke bestillingsdatoen. Vi anbefaler at du venter med å bestille flybillett til etter du har fått bekreftet plass på prosjektet. Ta kontakt med oss for priser utover disse antall ukene.
Hva er inkludert i prisen?
Praktisk informasjon før avreise så du stiller best mulig forberedt i møte med et nytt land
Losji på frivillighetshus, i delte rom (per kjønn) med hver sitt ensuite bad
3 sunne måltider hver dag gjennom oppholdet. Nesten all mat er vegetarisk
Orienteringsdag med trening etter ankomst, inkludert helse- og sikkerhetsopplæring, kulturforskjeller, og en tur i området
Daglig oppfølging av vår samarbeidspartner mens du er på Sri Lanka (både ved frivillighetshus og på prosjektet)
Inkluderte aktiviteter for alle deltakere:

yoga time og filmkveld på lerret (ukentlig)
guidet sykkeltur i lokalområdet, Sri Lankan BBQ, besøk til buddhist tempel (månedlig)

Fritt bruk av badebasseng ved frivillighetshus
Transport til og fra prosjektene hver dag
10GB WiFi per deltaker per måned
24/7 lokalt nødnummer
Visumveiledning
Deltakerliste
Transport til og fra Colombo flyplassen ved ankomst/avreise på lørdager (se nedenfor)
Attest etter hjemkomst
Transport
Deltakerne kjøper selv flybillett og påser at de flyr til nærmeste oppgitte flyplass ved prosjektet. Du vil bli hentet og fraktet tilbake til flyplassen. Dersom du ønsker å tilbringe noen dager på Sri Lanka før eller etter prosjektet starter, så skjer dette for egen regning.
Om du ikke rekker å ankomme mellom 6 og 18:30 på lørdag så tilkommer det ca 650kr for privattransport. Det samme gjelder om du reiser hjem utenom tidsrommet mellom 9 og 21:30 på lørdag. Du får mer info om dette når din plass på prosjekt er bekreftet.
Jeg melder meg på!
Jeg har noen spørsmål